Louise Hall, B.Ed Mus, L Mus A, Adv.Dip Yoga, Cert IV in Small Business
Artistic Director, Theatre LOTE Fantastique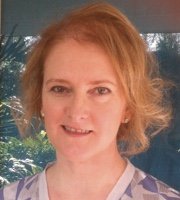 Louise began studying yoga with Shanti Gowans twenty-five years ago, when she was teaching in secondary schools and performing. After completing a yoga teacher training course in 1992, she went on to teach yoga in schools and in community centres in Melbourne.
In 1999 after living and working as an actress and theatre student in the UK, Louise moved to Sydney to co-manage and teach at City Yoga Studio, Sydney.
Professionally Louise has also worked as a music teacher, playwright, composer, director, performer, and business owner of a language-based theatre-in-education company Theatre LOTE Fantastique!