Retreat Pricing & Accommodation Options
Experience a yogic-inspired and Ayurvedic, wholesome and natural approach to renewal. Learn about Shanti Yoga retreat pricing and options.
---
---
Thank you for considering a Shanti Yoga Retreat at the Nirvana Wellness Centre. Nirvana Wellness Sanctuary is a perfect setting to embark on an inner journey. While we are sensitive to the wide range of feelings you may have, the aim is not to take participants back through their pain. You are encouraged to primarily take steps forward, honouring your life here as a gift worth living. Founded on not punishment, but nourishment and healing principles for creating authentic, meaningful interactions through rich, original and compelling content, we go beyond surface strategies and honour the important connection between the mind, body and presence.
Everything that happens at a residential retreat is programmed: the planned, the unplanned, the organised and unorganised, the tangible and intangible, measurable and unmeasurable, informal as well as formal. This is because all aspects of our inner and outer experiences (elements, forms, emotions, thoughts, sciences, arts, discourses, discussions etc.) are an expression of the interplay and potential of archetypical forces, and are different expressions of wisdom. Every aspect of a retreat at Nirvana is designed to help you connect with your highest Self while becoming more balanced and healthy in body, mind and spirit. Respected teachers offer experiential workshops and classes in Yoga philosophy, meditation, breathing practices and Yoga postures. The effects of your retreat don't stop when the program ends. You'll go forward with tools you can use to enjoy a more peaceful, more useful and happier life.
Packages range from 2 days up to 2 weeks. You can mix and match for an extended stay. Each program includes accommodation, delicious meals, program activities, stress busters in the form of easy, gentle yoga, breathing, meditation, stress and pain management, deep relaxation, lifestyle talks and full use of facilities. Ayurvedic consultations, detox medicines and treatments are optional extras. You can add these to your retreat. There is a choice of shared or private accommodation. Fees are per person, based on your choice of accommodation (as listed below).
Retreat package fees per person:
| | | | | | | |
| --- | --- | --- | --- | --- | --- | --- |
| | Daily | Weekend/ 2 nights | Weekly/ 7 nights | 10 days/ 9 nights | 14 days/ 13 nights | *Spring Detox |
| Twin-share | $350 | $695 | $2450 | $3150 | $4550 | $4150 |
| Single room | $400 | $795 | $2800 | $3600 | $5200 | $4600 |
| Ensuite-twin | $450 | $895 | $3150 | $4050 | $5850 | $5050 |
| Ensuite-single | $500 | $995 | $3500 | $4500 | $6500 | $5500 |
Twin share, shared facilities = We are happy to take a twin share booking for you. Come with your own share mate. If you cannot find your share mate ,you need to pay the single room shared facilities or ensuite rate. Where no suitable companion is available, single room rate applies. Twin share is two beds in the room, not a double bed.

Single room, shared facilities = These simple, peaceful rooms are a great mid-range option. They include a single bed, with shared facilities in the bathrooms nearby. Single room rates apply by choice or circumstance.

Ensuite Rooms = These quiet, private rooms are perfect for those who want a real retreat and include simple comfortable décor, a single bed and private amenities.
---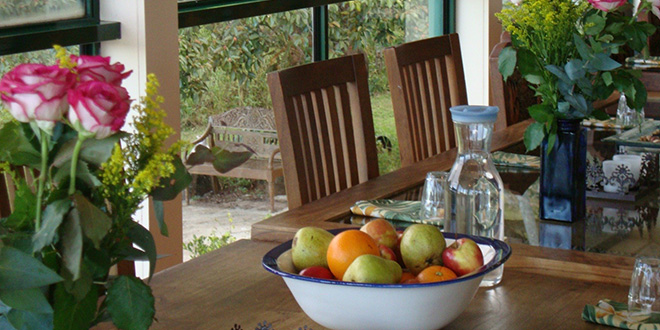 ---
Nirvana Wellness Centre and all Shanti Yoga Retreats are totally non-smoking, alcohol-free and vegetarian.
---
Included in your retreat fee are
accommodation
full board: breakfast, lunch and dinner, throughout the retreat
the program and activities including:- gentle morning yoga, afternoon deep relaxation (yoga nidra), meditation, breath-work, spiritual or health talks, mindful art, guided nature walks
plenty of free time
free wireless internet
---
Optional Extras
Massages, Facials, Ayurvedic consultations and other treatments
ACCOMMODATION
There are 14 bedrooms, some single, some twin-share. There is space for gathering together as well as areas to get away if you want privacy. The accommodation reflects the per person rate and includes all your delicious, home-cooked, vegetarian meals, program and activities. There are no refunds for unused parts of the program or meals.
Every room is fully furnished, carpeted, and provides country amenities and comfort, with insect screens,  comfortable single beds made up with an electric blanket, sheets, doona, pillow and cushions, a reading light, hairdryer, towels, room fan (per room) to operate as needed, torch, hot water bottle, bath mat and wash basin. Extra blankets are also available if necessary. All bedrooms have views. Bathrooms have complimentary biodegradable shampoo, conditioner and hand and body wash for your use.
PROGRAM STRUCTURE
There is a casual, loose and relaxed, but definite structure in the programmed life at Nirvana Wellness Sanctuary. Your personal space is for you to sleep in and park your possessions. There are no maids cleaning up after you or making your bed. You won't need your handbag, high heeled shoes, or to 'dress up' for a retreat, but at the same time, you won't be in your PJs all day. Meditation retreats have a higher level of structure.
PARTICIPATION
Whilst you are welcome to participate in as little or as much as you want to, you will find that the fundamentals of Nirvana's program - meditation, gentle yoga, deep relaxation - will be extremely beneficial for you. Many people who attend tell us that they are overscheduled in their daily lives, which is why they need some structure for work-life balance in their lives.
MEALS
 Retreats are a time to unwind, eat delicious healthy meals from a fixed menu, which are cooked fresh, daily, for the number of people present, and are eaten communally. Whilst there is plenty to eat, and you won't go hungry, so that we can include some enjoyable food such as desserts or foods that are rich, parts of the meal can be portion controlled. There are no short order cooks. Special menus need to be negotiated prior to the retreat booking, and can incur an additional fee.
WIRELESS INTERNET
aWireless internet access is free, and we do request that laptops and mobiles be used in consideration and in bedrooms. Whilst we encourage you to remove your watch, and shoes (no outdoor footwear is worn indoors), and ditch your mobile phone, we live in the same world as you do, and understand that the digital world we live in has changed the working life for many people. Thus, yes, there is internet access at retreat. Please feel free to bring your laptop so you can access work, or the world, if you need to. Having said that, please understand that a retreat is not a resort. Please come prepared to respect what is on offer.
DAILY ACTIVITIES
Also included is a variety of informative, engaging, inspirational and communal daily activities including gentle yoga, yoga breathwork pranayama, meditation and mindfulness, deep relaxation yoga nidra, spiritual talks, discussions, mindful art, nature walks and hikes, evening programs and extraordinary views - all in the natural beauty of the Gold Coast hinterland.
WEEK / 10-DAY PACKAGE INCLUDES
Accommodation in twin-share or single room (see prices below)
Full board 3 ayurvedic vegetarian meals (breakfast, lunch and supper) and beverages a day
Ayurvedic Consultation and health check-up (not on arrival/departure day)
Daily, gentle Yoga therapy
Program of complementary activities, which could include karma yoga, meditation, relaxation class, bush walks, dance class, cooking class, mindful art, spiritual movies - schedule varies)
Lectures and workshops
Free WiFi
WEEKEND PACKAGE INCLUSIONS
Weekend getaways are time-out breaks, which start with a delicious dinner on a Friday evening after dusk, and ends on Sunday afternoon, after lunch. They allow the participant to unplug, unwind, eat well, move well and chill out.
2 nights Accommodation in twin-share or single room (see prices below)
6 delicious Ayurvedic vegetarian meals (breakfast, lunch and supper) and beverages
Program of complementary activities, which could include gentle yoga, karma yoga, meditation, relaxation class, nature walks, dance class, cooking class, mindful art, spiritual movies - schedule varies)
Lectures and workshops
Free WiFi
ENQUIRE ABOUT
- Airport transfer  (Brisbane or Coolangatta Airport)
- Treatments as per your constitution
- Ayurvedic detox medicines and treatments for the duration of the program
REJUVENATION PROGRAM
Cells and tissues in the body change over the years. Nirvana's rejuvenation program will help refresh and rejuvenate your body's systems and provide the body, mind and spirit balance. Rejuvenating body treatments with medicinal oil, rejuvenating face masks and herbal medicines are part of this package. Treatments daily for 60-90 minutes. Recommended for 14 days.
BODY PURIFICATION (DETOX) PROGRAM
Our eating habits, lifestyle and environmental conditions can cause toxins to accumulate in the body and result in an imbalance of the tridoshas (the body's functional aspects). Nirvana's body purification therapy supports the body's natural mechanism of excreting these toxins and purifying the whole body so that it regains its natural balance of Vata, Pitta and Kapha. The 10-day package is based on panchakarma (purification processes in the narrow sense) and includes herbal medicines, dietary tissue cleansing that results in purgation, various oil applications (snehanakarma) and sweat treatment (swedanakarma).
Detox: Add $100/day or $500/week.
NON-RESIDENT VISITORS, PER PERSON, PER DAY
Program $210/day or part of a day.
Meals are extra for non-resident visitors: Breakfast: $25. Lunch (main meal) $55. Light Supper Dinner $20.
Commuters (non-residents) for Ayurvedic Lectures with BAMS Doctor 10am-1pm daily (Spring Retreat) $150 per session of 3 hours. This is the student concession rate. Please inform kitchen if you are intending to stay for lunch. Student rate of $25 applies for lunch.
RETREAT REFUND POLICY
Retreat fees are non-refundable within fifteen (15) days for weekend retreats and thirty (30) days for 7 and 10 days retreats prior to the scheduled event. There will be no refunds given for unused portions of program. There will be no cancellations accepted or refunds given on or after the event start date.